From October 1 – 31, 2020 our goal is to collect 10,000 pairs of warm winter socks for our seniors.
Drop them off at 9526-106 Avenue NW
Monday to Friday 8 am – 4 pm (Closed noon-1 for lunch)
Please contact Jimmy Morrison, Community Relations Supervisor, with any questions at 780-408-2958 or email jimmym@ofss.org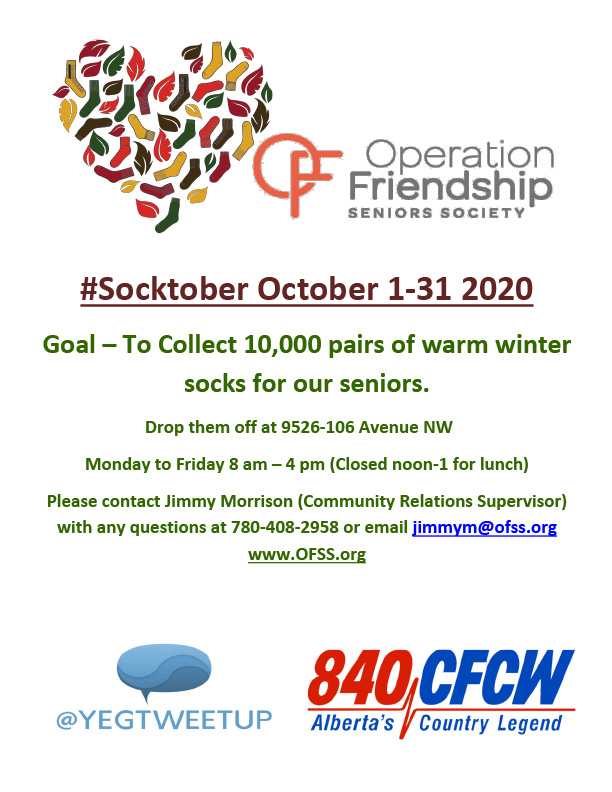 #OFSSBottleDrive
Operation Friendship Seniors Society is proud to announce our 2020 #OFSSBottleDrive to help raise money for our Drop in Centre and the Programs that we provide for our Seniors 55 plus. We have come up with a safe way to be able to help from home.
.
How You Can Support
Call Jimmy Morrison (Community Relations Supervisor) at (780) 408-2958 or email at jimmym@ofss.org to set up a time for us to pick up the bottles.
We will have one of our volunteers pick up your bottles from your doorstep at a designated time.
You can also take in bottles on your own and donate the proceeds on our homepage – www.ofss.org
We encourage you to take photos of you with your bottle donations and tag us on twitter @OFSS1969 or find us on Facebook. We want to get this trending and people/groups excited about our #OFSSBottleDrive